101 - Getting Started
Yes!  We support making driving logs in kilometers and miles.  When you create your log – you choose KM or Miles during account setup process.
If you want to change from KM to Miles – visit the "Rates/Units" page and you can switch your user preference from KM to Miles or vice versa.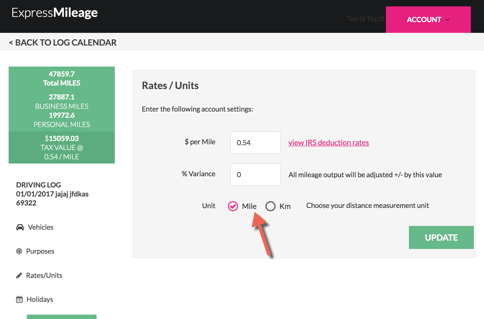 The Autopopulate feature has two different ways of producing autopopulated mileage log entries:
Randomize – Creates a log entries based on your driving habits and randomizes the number of drives and distances driven.
Example: Uber drivers, Real Estate Professionals.
Repeating – For those drivers who follow regular patterns of driving each day. Example: Delivery drivers who follow the same route each day.
Autopopulate is a feature that makes mileage log entries for an entire period (1 year or your custom start/end dates).  You enter basic information about the drives you want to have autopopulated and the system makes hundreds or thousands of mileage log entries for you auto-magically!
ExpressMileage helps customers who are being audited by the IRS on a daily-basis.  To date, we've helped thousands of customers successfully respond to IRS audits.
Building a log with our system takes a matter of minutes – which means you won't have any problem meeting the IRS audit submission deadline.
Driving logs created with ExpressMileage meet IRS mileage log standards.  This means they contain or exceed all of the required information the IRS defines in their Travel, Gift and Car Expenses publication 463 ( https://www.irs.gov/pub/irs-pdf/p463.pdf ).
Our driving logs can be easily updated and edited within Excel or Google Sheets.  They do not contain any dates ("Date Created" or "Date Modified").
Get started making a log today!  Please contact us if you have additional questions regarding making your mileage log for your IRS audit.
1. START SIMPLE
The process begins with a short interview where you are asked easy questions which build the framework of your log.  Click here to begin!
2. AUTOPOPULATE
Drivers with predictable driving habits can use Autopopulate to create a series of driving log entries. Video: The 4-minute Mileage Log
3. TWEAK YOUR LOG
Using the calendar tool, you can add/update or delete driving entries to the mileage log. Repeating drives – like a daily, weekly or monthly drive – are easy to setup, too!
4. DOWNLOAD AND BE HAPPY
Once you're happy with the log you've created, download or print the log. You're done! Too easy.
All ExpressMileage Logs are in IRS compliant format.  The mileage log can be downloaded in PDF or XLS spreadsheet format.  You can easily modify the XLS spreadsheet as needed.
This log was generated in less that 5 minutes each using our Autopopulate tool.
Click to download a sample log.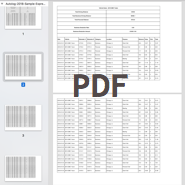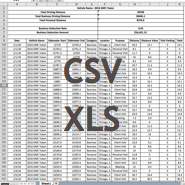 Yes.  ExpressMileage's logs meet or exceed the CRA's requirements for driving logs.
The CRA only specifies that you display a log of BUSINESS driving – not PERSONAL.  You will still need to know the number of PERSONAL driving KMs in order to calculate the "Calculated Annual Business Use" ( % ) – but according to the CRA, only the BUSINESS drives need to be logged.
Please reference this for more info:
Our driving logs have additional columns not needed by the CRA.
To remove unnecessary columns (Distance Value, Tolls Parking, Total) – these can be removed by opening the spreadsheet in Excel or Google Docs.  Then simply select (highlight) all cells in each column and right click and choose "Clear Contents".  This will remove the columns and not impact the formulas.  You also may consider deleting or "Clearing Contents" of the Business Deduction Rate and Business Deduction Amount columns.
Business – Drives made using your vehicle for business purposes.  The Autopopulate system will place these drives on non-blackout (holiday or non-working) days.  These drives are able to be multiplied by the "Cost Unit" ($ per Mile / KM) to calculate total driving value.
Personal – Drives made using your vehicle for personal (errands, shopping, family..etc) reasons.  Personal Drives will be added to ALL dates on your calendar (including blackout dates) during the Autopopulate process if you specify Personal Drives to be added to your log.  You must include at least one drive in the "Personal" Category during the Autopopluate questionnaire for the system to generate Personal drives on your log.
Personal – Commute –  This is a special category of Personal Drives that occurs at the beginning and end of each Work day.  These drives represent commuting to your workplace and from your workplace – which is not considered as Tax Deductible driving by the IRS.