The Internal Revenue Service or IRS is a U.S. federal agency that is responsible for tax collections. For business owners and self-employed, it is significant to track your miles. You need a record of your drives for audit purposes or mileage deductions claims. This logbook is called a mileage log, mileage logbook, or something similar. You must provide accurate information as this is your legal obligation to prove your deductions. To make an appointment you can contact your local IRS office.

How can your mileage logbooks help you avoid an audit?
Here are some tips:
Know your rights as a taxpayer. You will never go wrong if you know your rights and privileges.
Educate yourself on the audit process. Being always prepared and well-informed will make your audit process go smooth and fully controlled. It's a win-win situation for you and the auditor.
Never mail or bring original records. Send IRS only copies. The IRS isn't responsible for any documents lost or damaged in its possession.
Be an organized person. Organizing the records you bring or send to the auditor will help his work simpler and speed the audit process. He will at least believe that your records are well documented and justified therefore avoiding errors or misunderstandings on both ends. 
You organize your records by year and include all the needed information:
-Dates of your trips
-Starting point
-Destination or Place
-Purpose of your trips
-Vehicle starting mileage
-Vehicle ending mileage
-Total miles, or kilometers, driven
Make sure that your drivers are aware of policies and regulations and that they should comply to avoid future problems. Monitoring their performance from time-to-time is also important. Have corrections made as early as possible and make sure to have the driver initial any changes. Let them be responsible also that completing logs is required otherwise disciplinary action will be given for any log violations. Include these policies on the company's Policy and Procedure handbook given to all drivers. Let the employees acknowledge the receipt of these policies. 
If you think organizing and tracking is too much hassle for your business, Express Mileage is the perfect tool for you. It is a mileage log maker that will help you make mileage logs faster. Yes! In a matter of minutes and you are done. This platform will protect you from IRS audit and it is proven reliable by many business owners. How does express mileage work? You can also watch a short video to know more about how powerful it is and you have the option to choose what membership plan you prefer. Plans available are:

Standard Plan
PRO Plan
Elite Plan
The following are the benefits of using an online mileage log:
You get the maximum deduction you deserve
It is verified to meet IRS log requirements
Quickly log recurring driving patterns
Save logs in Excel XLS or CSV formats
Secured 256-bit SSL encryption
Cloud-based accessible anywhere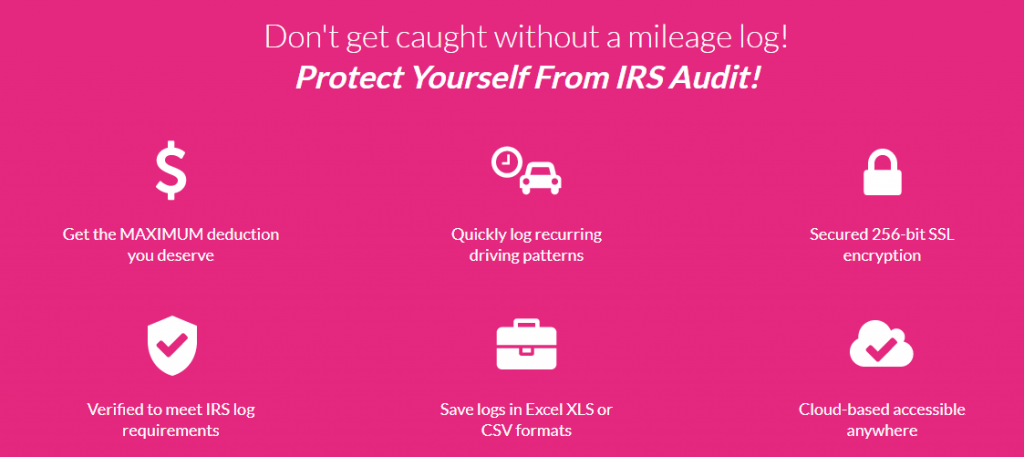 Take a look at our sample log: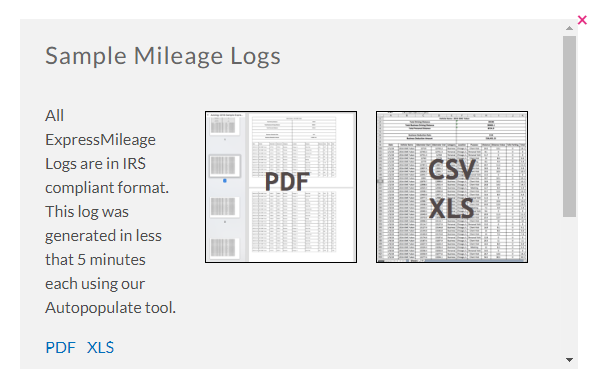 Make a mileage log today and try ours for an easier and convenient way of organizing records for your entire year. Signing-up is FREE!