We've had a number of ride-sharing drivers (Uber/Lyft..etc) request more information on creating a log to resemble their driving log habits.  It is surprising that these companies do not offer mileage logs to their drivers.  Instead, drivers are provided a weekly summary of drives which does NOT include mileage details.  Instead, these driving summary contain number of drives, amount of fares collected, driver rating and other fairly basic information.  Drivers are expected to keep their own driving logs either by hand or by using a tracker app in synchrony with their Uber Driver app.
Need your own mileage log for Uber drive? Try making one today!
In this example, we'll create a mileage log for an entire year for a driver who drives a few drives per day through-out  the week.  This example could easily be expanded for a driver who averages 20 or 30 drives a day.   It is important to also note that the Autopopulate feature can be utilize to generate a log for a day, week, month or any length of time.  Many users Autopopulate several times in a row in order to create a varied log that best resembles their actual driving habits.
Adding Custom Uber Driving Purposes and Selecting Days Driven
First, we'll enter a few additional custom driving purposes within the Basic Info workflow.  Here, we added "Uber Driving", "Uber Driving More" and "Uber Driving More 2" as three distinct drive purposes.  One the next step, each one of these Uber driving purposes can be assigned to days of the week they are driven.  In this case, this driver does the most Uber driving on Thurs, Fri and Sat – so we make sure we assign all three Uber purposes to these days.   Since this driver also uses his vehicle for personal driving during the day, we've selected the Purpose entitled, "Personal Driving" to capture these drives.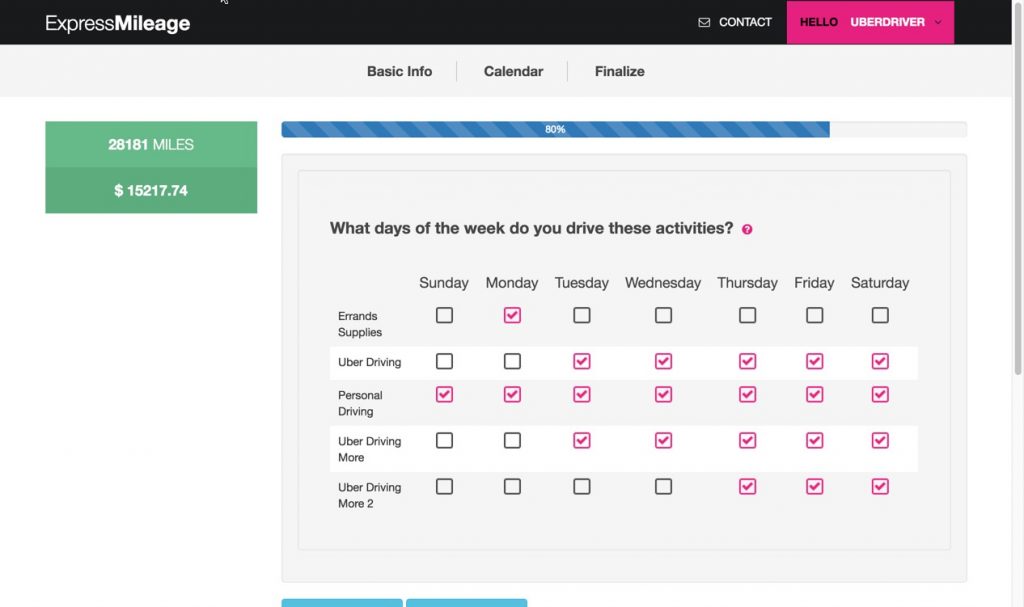 Define Mileage and Frequency of Drives 
The next step is to define the mileage, location and frequency (# times driven per day) to each drive purpose selected in the previous step.   This driver only drives in Chicago – and chooses not to leave the metro area.  We setup some distances here – which can later be increased / decreased on a random basis using the Variance value within Account -> Units/Rates setting.  Since an Uber driver's drive distances vary considerably, this is an excellent feature to create a variety of drive distances within the log.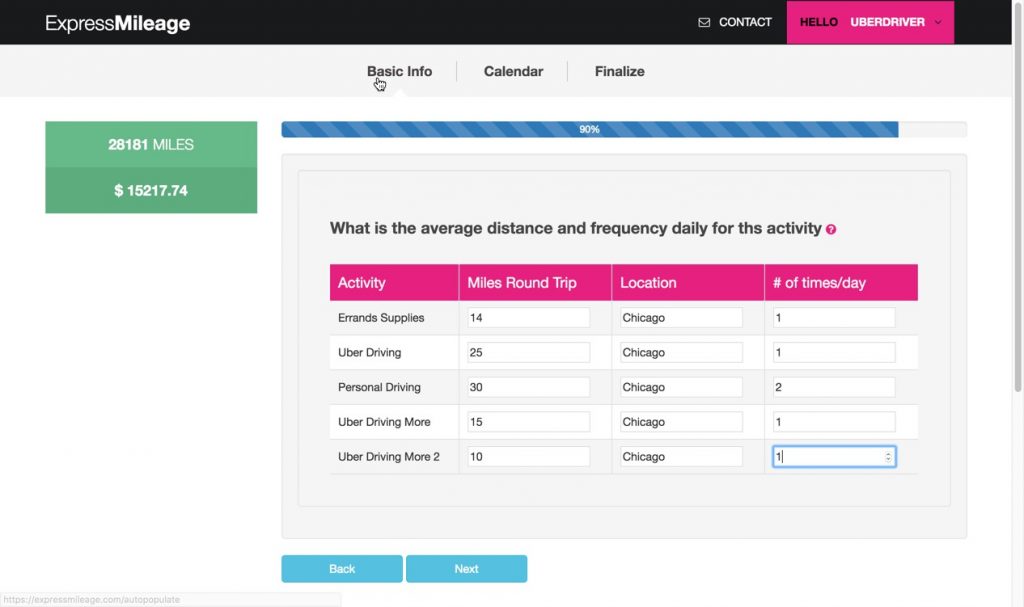 Running the Autopopulate Feature to Generate Mileage Log
We're now ready to execute the powerful Autopopulate tool within ExpressMileage.  Simply click the "Autopopulate" button and the system will work it's magic – creating a line-by-line, drive-by-drive mileage log of all of the drives for the entire year.  Autopopulate usually takes less than 3 seconds to create a log with 2000 entries.  A high-mileage Uber or Lyft driver might have 6000-8000 drives in a year and would take 4.2 seconds to create.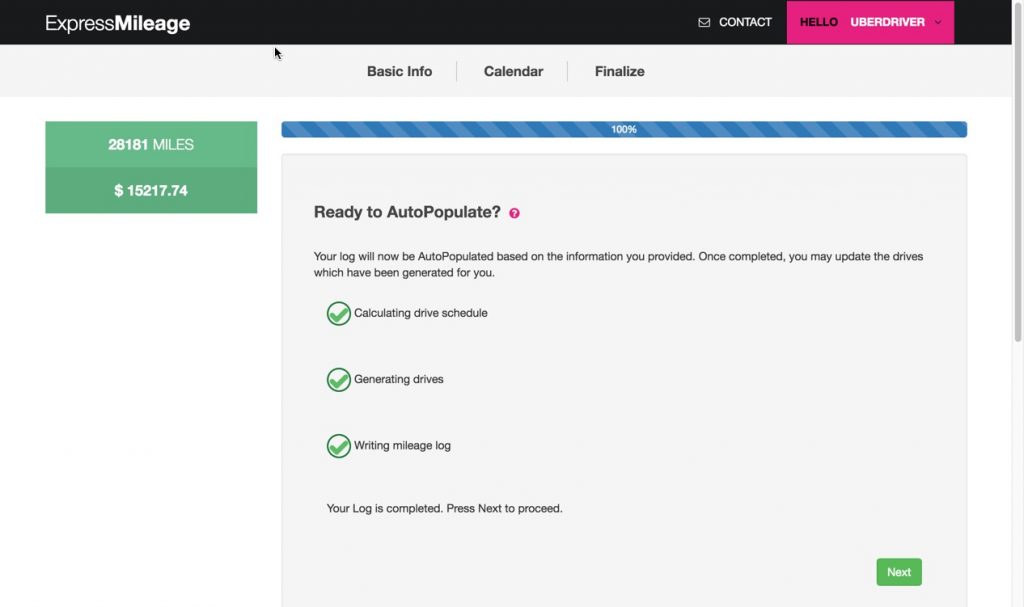 Autopopulate Summary
Once the Autopopulate is complete, the system displays the number of drive events generated.  In this example, we've generated 1362 drive events for a total of 31,000 miles – which equates to $16774 in tax deductible driving (@ the current rate of $.54 per mile).  From this page, you can either download the log immediate or inspect and edit the log using the Calendar tool by clicking "View Calendar."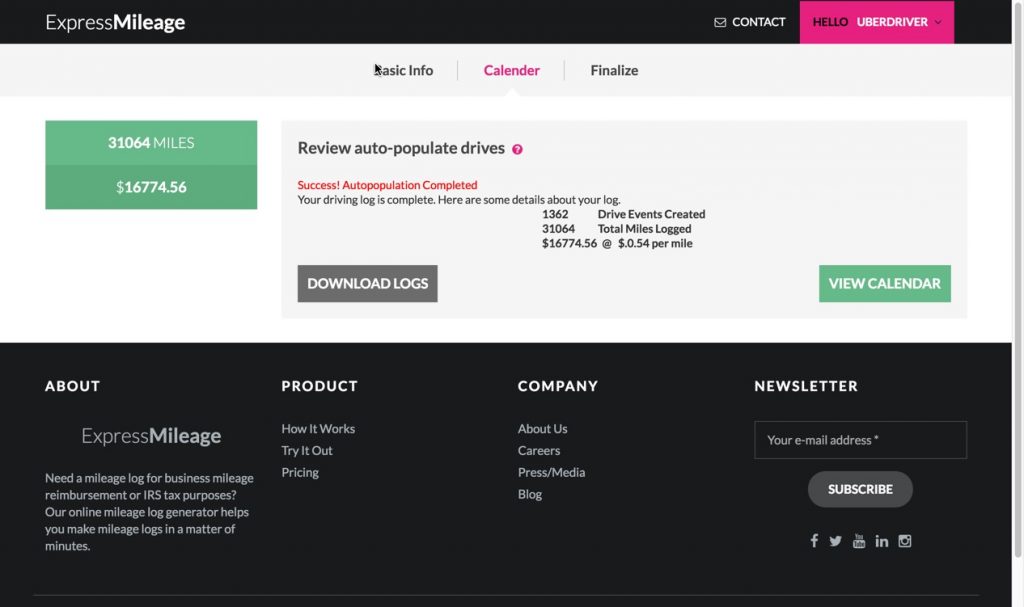 Review and edit your Mileage Log 
The calendar tool offers a very colorful and useful way to view your mileage log.  Each day of the year is color-coded to provide an at-a-glance heatmap view of daily driving history.   The color of each date represents the total mileage driven each day and have been divided into "High", "Medium" and "Low"  mileage.  We can click on any day and see the drives generated for that day.  We can also view daily mileage log entries from this screen by clicking on the day.   The day driving detail page will appear and from there you can add/edit or delete drives as needed.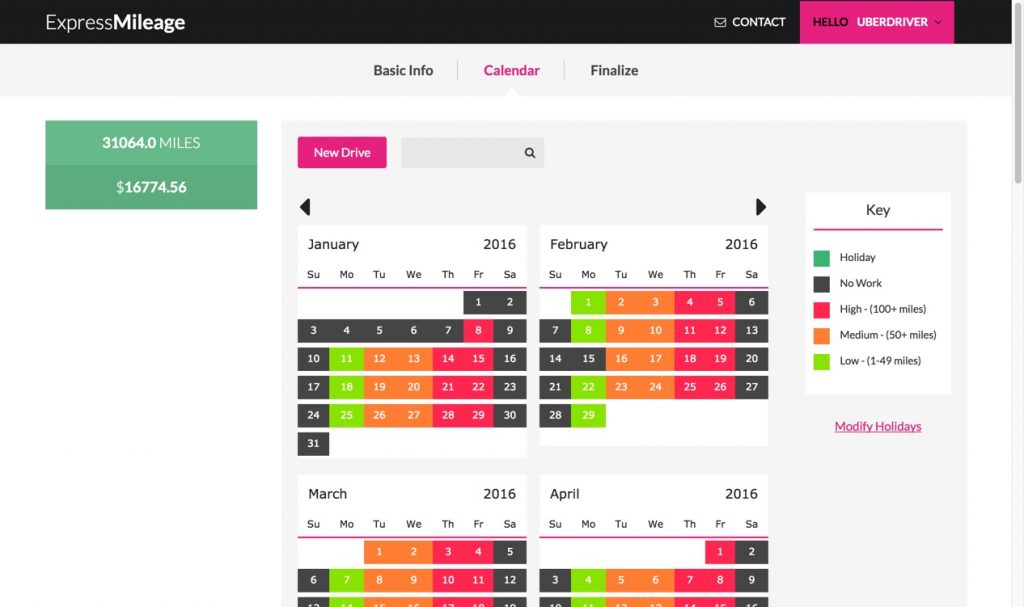 Download the completed Generated Uber Driving Log
Now that we've generated an Uber (or Lyft) driving log and managed to account for over 30,000 miles – we're ready to download the log.  The final output from the ExpressMileage system is a complete day-by-day, drive-by-drive log of all mileage for a time period.  By click the "Finalize" button on the navigation bar – you'll be given the option to preview or download the mileage log.  Note that the "Preview Log" option will only give you a small sample of mileage log entries.  In order to get the entire log – you'll need to choose "Download Log" from the Finalize menu.