The IRS has not published rates for 2019 – perhaps you are looking for the IRS 2018 mileage rates?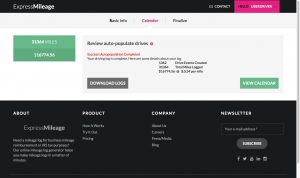 Create a Mileage Log in Minutes
ExpressMileage is a web application that helps you create a mileage log  for reimbursement and tax purposes. It simplifies making a mileage log by using Autopopulating your mileage log based on a few simple questions about your driving habits.   ExpressMileage logs are in an IRS compliant format.
Here are the 2018 IRS Standard Mileage Rates:
IRS Mileage Rates
Year
Business Rate
Medical or Moving Rate
2018
54.5 cents/mile
18 cents/mile
2017
53.5 cents/mile
17 cents/mile
2016
54 cents/mile
19 cents/mile
Need to make a mileage log?  Make one today using ExpressMileage!
ExpressMileage makes IRS compliant driving logs with all of this information.  All you need is 5 minutes and your starting odometer reading for 2018 and we will do the rest!
Ready to make a mileage log in 5 minutes?  Make one today using ExpressMileage!