The IRS has published rates for 2020! IRS provided Notice 2020-05 and updated the Standard Mileage Deduction rate to 57.5 cents per mile. You can use this standard mileage rates to calculate the tax-deductible cost of operating an car, van, pickup truck, or rideshare vehicle.
The standard mileage rate provided by the IRS also defines the maximum amount an employer is responsible for reimbursing an employee for driving a personal vehicle for business purposes.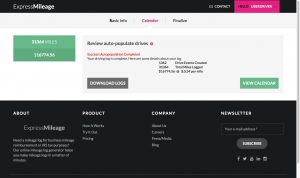 Create a Mileage Log in Minutes
ExpressMileage is a web application that helps you create a mileage log for reimbursement and tax purposes. It simplifies making a mileage log by using Autopopulating your mileage log based on a few simple questions about your driving habits. ExpressMileage logs are in an IRS compliant format.
Here are the 2019 IRS Standard Mileage Rates:
IRS Mileage Rates
Year
Business Rate
Medical or Moving Rate
2020
57.5 cents/mile
17 cents/mile
2019
58 cents/mile
20 cents/mile
2018
54.5 cents/mile
18 cents/mile
2017
53.5 cents/mile
17 cents/mile
2016
54 cents/mile
19 cents/mile
Need to make a mileage log? Make one today using ExpressMileage!
ExpressMileage makes IRS compliant driving logs with all of this information. All you need is 5 minutes and your starting odometer reading for 2018 and we will do the rest!
Ready to make a mileage log in 5 minutes? Make one today using ExpressMileage!